Villa Nigra – Miasino
Villa Nigra is the Town Hall of Miasino, a gorgeous old village 479 meters above sea level on the eastern side of Lake Orta, among the most charming places sought out for quiet vacations in Northern Italy. In Miasino are numerous elegant 18th century buildings in Baroque style, villas and churches which make up an enormously valuable heritage, among these Villa Nigra, a living testimony to the ancient splendor of this little town which has had many an illustrious personage among its citizens and visitors.
The oldest part of Villa Nigra goes back to the end of the 1500's and faces the main square. It was enlarged between 1681 and 1725: a new wing was added and a double loggia on the first and second floor looking towards the internal court yard. The villa was acquired by the wealthy Nigra family from Sartirana Lomellina halfway through the 1800's and it was the Architect Carlo Nigra who looked after its restoration. He had already several important projects to his name, among which were the Valentino Castle in Turin, the Church of Miasino and the San Giulio bell tower, and he was also the author of several publications on art.
The villa is a building mainly over three floors with a small bell tower atop the small part where there are four storeys. The 17th century part has a loggia with walls facing the inner courtyard which is frescoed to frame the openings of the villa, creating optical effects worthy of note. The garden is south facing and gently sloping. The villa can be visited only on special occasions.
Some important personages associated with the history of Miasino: Painter Giuseppe Zanatta (1635-1720), Giovan Battista Cantalupi (1732-1780), Architect and priest Giovanni Antonio Martelli, writers Onorio Guidetti and Matteo Alesina (XVII century).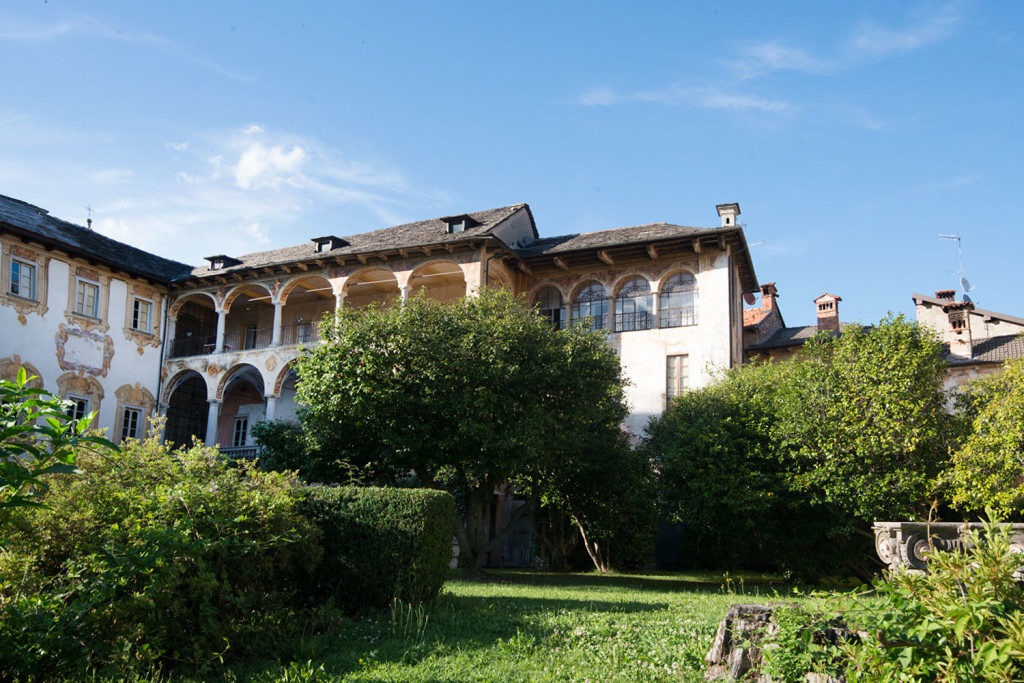 35
Categories
42
Locations
376
Resources
0
Events
RAY HEFFERNAN performance
LIVE MUSIC… NOT TO BE MISSED Friday 18 / 18.00 – RAY HEFFERNAN 🎸🎸🎸🎸🎸 musician and composer, author of the famous piece Angels "by #RobbieWilliams Exclusively at the Vecchio Circolo Lortallo to cheer guests during the aperitif and dinner. RECOMMENDED TABLE RESERVATION CALL ☎️ + 39 0322 1902034 old club of Lortallo / Ameno Once an inn and meeting point in the small village of Lortallo, at the foot of Mount Mesma. Today a contemporary, chromatic and geometric kitchen laboratory. There is evolution and research. Above all fun dishes, to be appreciated even with the eyes. The new adventure of a young chef and an experienced patron (his is the boeuc wine bar in Orta) takes place in the scenery of the Pre-Alps, the nearby Lake of Orta and the Agogna valley. A conjunction between past and future to be covered by walking (up to the table) among the green paths that wind through the hills.
Lake Orta wine festival 2021
Lake Orta wine festival 2021, returns as every year, after the suspension of 2020, and we are now in the seventh edition, the appointment with the Lago d'Orta Wine Festival promoted by the Lago d'Orta Tourist Union, which will take place for the 2021 edition on Sunday 29 and Monday 30 August at the square in front of the Mottarone cable car. PROGRAM Sunday 29th August 12.00 Stand opening 5.00 pm Deejay set Mr Tambourine 7.00 pm Risotto with Porcini Mushrooms Monday 30th August 12.00 Stand opening Gorgonzola tasting 5.00 pm Deejay set Mr Tambourine TASTING Selected wines from upper Piedmont and typical products Tasting Euro 15 including the glass stand path free admission wine sales at cellar price INFO wine festival Info: +39.349.0576090 info@lagodorta.piemonte.it www.lagodorta.piemonte.it SEGUI I NOSTRI SOCIAL