A GOURMET STAR IN THE HEART OF ORTA SAN GIULIO
A Michelin star for the pleasure of those truly passionate about taste and flavour. This restaurant proposes a cuisine of fresh flavours and new creative combinations signed by Chef Andrea Monesi. Innovative and creative, his cooking is firmly rooted in Italian tradition. The very fine wine-list is of international calibre with over 600 labels and is edited with utmost care by Sara Orlando, passionate maître and sommelier who oversees the dining room and suggests pairings for the disheschosen with an authoritative, professional manner and a spirit  of experimentation which completes the culinary offering. Theterrace offers unbeatable views of the stone roofs of Orta.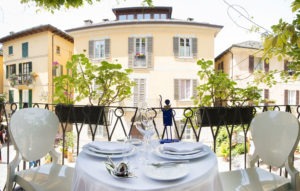 Events Pro | Info: There are no events created, add some please.