Contemporary art collection
The Foundation was started in 1979 according to the wishes of the renowned painter Antonio Calderara, who lived in this house in Vacciago near Ameno until the mid seventies. The collection consists of a grand total of 327 art works by 133 painters and sculptors from various parts of the world.
The permanent exhibition brings together works by artists who had had some contact with Calderara, giving rise to its title "The history of Antonio Calderara and a selection of artists who were his contemporaries and friends."  The collection includes trend-setting works from a period between 1920 and 1978, arranged by Calderara himself in his 17th century house in Vacciago, which also belongs to the Foundation.
The sculptures and paintings on display belong to the avant-garde movements which were milestones of 20th century art: from pop-art to kinetic art, right through to visual poetry. What all these works have in common, however, is their tendency to the abstract, which was a favourite style of Calderara's, especially in the second half of his career, when his inclinations took him in the direction of geometric lines and the representation of light. However, there are also figurative paintings – portraits, landscapes and still lifes – by the artist, starting from the 20s (his first personal exhibition was held in 1923 in the Maulini Hotel in Vacciago).
The artists whose works are on display include Lucio Fontana, Jochims Reimer, Piero Manzoni, Arnaldo Pomodoro, Vasarely Victor and Abe Nobuya. They are all artists who had a professional and personal connection with Antonio Calderara, and his way of thanking them for their collaboration and friendship was to exhibit their works, in a precise order which under the terms of the artist's will cannot be changed.
Admission free.
Opening hours: May to October, 10.00 – 12.00 and 15.00 – 18.00. Closed Mondays.
Open from 15th May to 15th October from Tuesday to Friday:  3 – 7 p.m.
Saturday and Sunday: 10.00-12.00 a.m.; 3-7 p.m.
Free entrance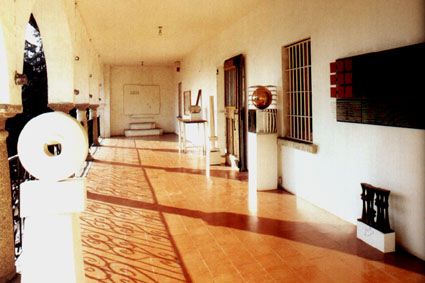 35
Categories
42
Locations
376
Resources
0
Events
RAY HEFFERNAN performance
LIVE MUSIC… NOT TO BE MISSED Friday 18 / 18.00 – RAY HEFFERNAN 🎸🎸🎸🎸🎸 musician and composer, author of the famous piece Angels "by #RobbieWilliams Exclusively at the Vecchio Circolo Lortallo to cheer guests during the aperitif and dinner. RECOMMENDED TABLE RESERVATION CALL ☎️ + 39 0322 1902034 old club of Lortallo / Ameno Once an inn and meeting point in the small village of Lortallo, at the foot of Mount Mesma. Today a contemporary, chromatic and geometric kitchen laboratory. There is evolution and research. Above all fun dishes, to be appreciated even with the eyes. The new adventure of a young chef and an experienced patron (his is the boeuc wine bar in Orta) takes place in the scenery of the Pre-Alps, the nearby Lake of Orta and the Agogna valley. A conjunction between past and future to be covered by walking (up to the table) among the green paths that wind through the hills.
Lake Orta wine festival 2021
Lake Orta wine festival 2021, returns as every year, after the suspension of 2020, and we are now in the seventh edition, the appointment with the Lago d'Orta Wine Festival promoted by the Lago d'Orta Tourist Union, which will take place for the 2021 edition on Sunday 29 and Monday 30 August at the square in front of the Mottarone cable car. PROGRAM Sunday 29th August 12.00 Stand opening 5.00 pm Deejay set Mr Tambourine 7.00 pm Risotto with Porcini Mushrooms Monday 30th August 12.00 Stand opening Gorgonzola tasting 5.00 pm Deejay set Mr Tambourine TASTING Selected wines from upper Piedmont and typical products Tasting Euro 15 including the glass stand path free admission wine sales at cellar price INFO wine festival Info: +39.349.0576090 info@lagodorta.piemonte.it www.lagodorta.piemonte.it SEGUI I NOSTRI SOCIAL