Al Dom B&B Lake Orta Peacefully relax within the walls of our B & B , an area of ​​peace to rest from the stress of the day and enjoy a good book or chat with friends .
All rooms have a large balcony overlooking the lake ; every room has been given a special character that makes it unique , personalized and unforgettable .
From the garden by the lake you can enjoy the magnificent views of the island and the surrounding mountains . In summer the terrace of the dock will give you moments of relaxation unique and breathtaking views .
Furniture and decorations are in harmony with the soul of the structure in an effort to respect as much as possible to the building's history that stands for important coffered ceilings , stone columns and floors of grit typical of the era in which it was built . Al Dom B&B Lake Orta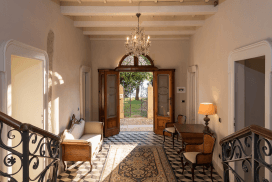 Events Pro | Info: There are no events created, add some please.