Astragalo Cocktail Restaurant is a young club, born within the structure of Parco Commerciale, but with a completely independent life. The restaurant, in fact, has two entrances, one inside the Park and another one separated by the structure, which allows opening in extra hours.
Excellent business lunches and the kitchen is also open in the evening, ideal for aperitifs and evenings with friends. Astragalo restaurant is the ideal location for organizing meetings and corporate events. The area of ​​the room is large and accurate in detail and allows you to take advantage of a unique space on Lake Maggiore. The curved wall with projector creates a fantastic atmosphere to display videos and photographs. The audio system with console is among the most performing.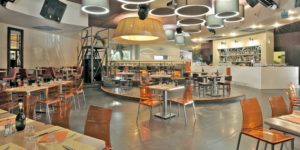 Events Pro | Info: There are no events created, add some please.