Artisanal pastry Manuelina – Please enter you are welcome here from Manuelina, where taste and quality are a guarantee and the hallmark is the passion that we put every day in what we churn!
The restaurant has been completely renovated this year: it has become bigger and its furniture shows the taste for certain classic details such as exposed iron, flowered wallpaper and wood, mixed with the most modern trends … as well as the guide of his father Graziano with his solid foundations of the profession of pastry chefs alongside the young innovation of Manuelina. Once it was only pastry, today it is also a café, chocolate shop and ice-cream parlor. From breakfast to an aperitif, passing through all the moments of a sweet day.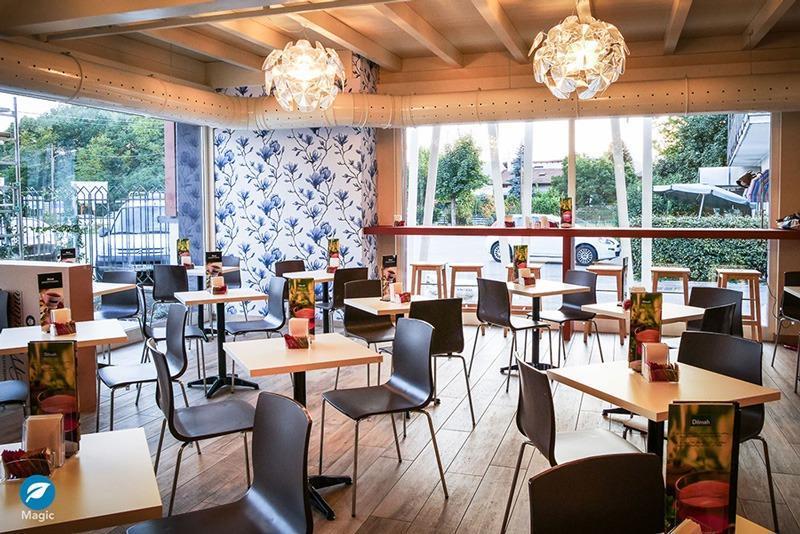 Once it was just pastries, today we start the day early with breakfasts offering dark chocolate buns, pistachio, ricotta, raisin, in addition to the "classic". But not only … we do mini Iris, small Charlotte and on Sundays also stuffed donuts. We are also a coffee shop, chocolate shop and ice cream parlor. All our finished products are absolutely artisanal, we do not use any kind of preparation ». «The bakery of my father Graziano was known in particular for its" Bad but good "and for the" Roselline del Lago d'Orta ", which today are always among our most appreciated desserts. Along with these we continue to offer new biscuits, pastries, pastries, cakes … such as the different "Merigette" perfumed with Nebbiolo, Juniper, Gewürztraminer … ». On request we make the Cake Design for parties, surprises and special gifts. For snacks of the day, there is also salty production, also ideal to alternate the offer of buffet services always on request. A genuine and delicious breakfast at the same time, a quick lunch, an original aperitif, snacks for children with the added value of craftsmanship and a hundred ideas to bring an enjoyable gift and always welcome guests and celebrated. The ideal solution for everyone and for every moment! Passion and initiative mixed with the freshness and quality of raw materials, can only give an excellent result … icing on the cake: the taste for beauty!
Artisanal pastry Manuelina
Tuesday
06.30 - 12.30 - 15.00 - 20.00
Wednesday
06.30 - 12.30 - 15.00 - 20.00
Thursday
06.30 - 12.30 - 15.00 - 20.00
Friday
06.30 - 12.30 - 15.00 - 20.00
Saturday
06.30 - 13.00 - 15.00 - 20.00
Sunday
07.00 - 13.00 - 15.00 - 20.00
RAY HEFFERNAN performance
LIVE MUSIC… NOT TO BE MISSED Friday 18 / 18.00 – RAY HEFFERNAN 🎸🎸🎸🎸🎸 musician and composer, author of the famous piece Angels "by #RobbieWilliams Exclusively at the Vecchio Circolo Lortallo to cheer guests during the aperitif and dinner. RECOMMENDED TABLE RESERVATION CALL ☎️ + 39 0322 1902034 old club of Lortallo / Ameno Once an inn and meeting point in the small village of Lortallo, at the foot of Mount Mesma. Today a contemporary, chromatic and geometric kitchen laboratory. There is evolution and research. Above all fun dishes, to be appreciated even with the eyes. The new adventure of a young chef and an experienced patron (his is the boeuc wine bar in Orta) takes place in the scenery of the Pre-Alps, the nearby Lake of Orta and the Agogna valley. A conjunction between past and future to be covered by walking (up to the table) among the green paths that wind through the hills.
Lake Orta wine festival 2021
Lake Orta wine festival 2021, returns as every year, after the suspension of 2020, and we are now in the seventh edition, the appointment with the Lago d'Orta Wine Festival promoted by the Lago d'Orta Tourist Union, which will take place for the 2021 edition on Sunday 29 and Monday 30 August at the square in front of the Mottarone cable car. PROGRAM Sunday 29th August 12.00 Stand opening 5.00 pm Deejay set Mr Tambourine 7.00 pm Risotto with Porcini Mushrooms Monday 30th August 12.00 Stand opening Gorgonzola tasting 5.00 pm Deejay set Mr Tambourine TASTING Selected wines from upper Piedmont and typical products Tasting Euro 15 including the glass stand path free admission wine sales at cellar price INFO wine festival Info: +39.349.0576090 info@lagodorta.piemonte.it www.lagodorta.piemonte.it SEGUI I NOSTRI SOCIAL